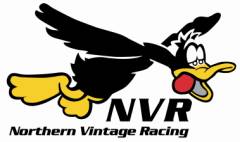 MICHEL ROBY ERIC PRITCHARD
NORTHERN VINTAGE RACING is a two man team contesting North American championship vintage road racing in Canada and the USA.

MICHEL ROBY is a French Canadian who came to a full season of road racing in '02 after a partial, 2 race, season in '01. Has been previously involved in road racing during the '70s on the Canadian scene. Currently retired from the job of Quality Manager at Bell Helicopter Textron Canada, Michel is the owner, tuner and rider of three road racing Ducatis, a '64 250cc, a '73 350cc and a Ducati TT2, and also owns a Ducati Monster S4R road bike.

ERIC PRITCHARD is resident in Canada since moving from the UK in 1979, Eric has nearly 50 years of motorcycle competition experience, starting with road racing in the '60s in England and branching out over the years into Trials, Moto-X and Enduros. With his wife Ariane, he runs a small farm and Bed and Breakfast, and currently races a '64 250cc and '55 500cc Triumph engine Fry Special. Member of the Canadian Vintage Motorcycle Group (Montreal Section), Eric sponsors Trials, Moto-X and Enduro events, and the annual CVMG rally, on his farm south of Montreal.
Watch for the team in VRRA, USCRA and AHRMA events near you!
---
CONTACT…

Eric Pritchard
eric@rocler.qc.ca
www.rocler.qc.ca/ariane
2268 Gore Road, Ormstown, Quebec, Canada J0S1K0
Phone: (450) 829 3593

Michel Roby
mroby@bellhelicopter.textron.com
michel.roby@videotron.ca
1100 Montee du Terroir, Prevost, Quebec, Canada J0R1T0
Phone: (514) 214-8270
---
If you would like more information, call 514-829-3593 or E-Mail us